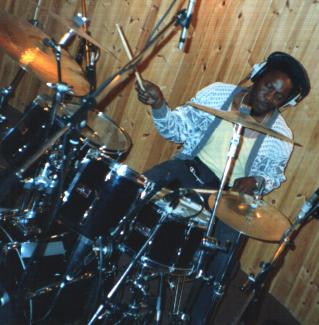 Peter Martin
Peter Martin (1948- ) has been part of the British and Swedish music scene for more than 40 years doing countless tours, gigs and records with highly esteemed artists in both countries. He has also with great enthusiasm worked in Swedish schools teaching kids to play the drums. In the Swedish music community Peter Martin is well known and respected for his musical skill and experience as well as his profound dedication to his art.
Peter Martin was born in the island of Montserrat, British West Indies, and moved to England with his parents when he was five years old. In his early teens he realized he had a talent for playing the drums and he started to play music with some semi- professional bands in his spare time. He attended the local music school for a term but quit after a while to form his first rock band at the age of seventeen. They played school gigs, weddings and private parties. His first major gigs was with Jamaican reggae artists Owen Grey and Alton Ellis when reggae music took off in London. After some small tours around England in the early 70´s he decided to give up his regular job to do what he did best – music.
Working with a variety of artists as a studio musician in the mid 70`s helped him to develop both musically and professionally. In the 80`s he began touring again in Great Britain and parts of Europe along with the studio work. He played with artists such as Jimmy Cliff, Eddie Grant, Pete Townsend, Linton Kwesi Johnson and Steelpulse and was supporting band for Bob Marley, Burning Spear, Culture, Yossou N´Dour and Curtis Mayfield.
In 1983 Peter Martin joined the Steel and Skin Art Company and playing in a festival in Denmark they met a producer from a Swedish culture organisation who eventually signed them for a six months tour in Sweden teaching rhythm and dance in the schools. During this tour Peter Martin met a young and talented guitar player, Niklas Holmberg. "He was good! He was the best guitar player I came across in Sweden, he had the same approach as Jimi Hendrix. He was like a baby brother to me and I wanted to try to find work for him so people could hear him", says Peter Martin.
By this time he had decided to stay in Sweden and he and Niklas Holmberg became friends and partners in music for the next thirteen years. Peter Martin joined Niklas Holmberg`s band The Yellow Sunshine Bluesband and they played blues and Jimi Hendrix covers in local pubs and festivals in the southern part of Sweden. They also recorded and toured in Sweden together with Indian musicians in a culture exchange project Ethno Techno.
Over the next two decades Peter Martin was doing gigs and tours as well as studio work with a variety of Swedish artists in the genres of pop, rock, soul ,blues, reggae and African styles with artists and bands such as; Lena Philipsson, Lili o Susie, Eric Bibb, Gigi Hamilton, Papa Dee, Tony Ellis, Red Mitchell, Totta Näslund, Bag of Rhythm, Ahmadu Jah Hi- Life Orchestra, Titiyo and Timbuktu. He was also a member of reggae band Calcutta Transfer for six years and as a member of Dr Alban´s band he recorded and did tours in Europe for four years. He also went on tour for three months in West Africa with Rub a Dub band before he eventually joined Peps Persson`s band in 199?....
After five years of touring with Peps´s band Peter Martin decided to slow down a bit and is now engaging himself in exploring the rhythms and sounds of the African drum – the djembe.
"Always remember; one good thing about music when it hits you feel no pain, so I will keep on hitting and kicking and hitting…", says Peter Martin.